Ages_of_Adam
Digital Copy Specs
Format -- Color Cover, b/w interior, 158 numbered pages, pdf is 169 pages, original *.pdf is 2.85 Mb
Size -- 5.5 in. x 8.5 in., suitable for printing.
Calendars_of_Creation original covers are available Call 863-332-5880 or
Contact
I am personally offering signed (if you want) first edition soft color covers from my preliminary out-of-print book:
Calendars_of_Creation for $ 9.95
each, plus shipping. Use the
Buy Now
button above and send a confirmation email request to
agesofadam@timeemits.com
. You may also call 863-332-5880, so we can arrange delivery. CoC covers are sold 17 x 11 inches, no fold, and include the back cover on the left side, spine 0.5 inch, and the front cover on the right side. Most are in A condition and I will sell those before sending any B condition covers. Inside the front cover a b/w letter from Time Emits Publishers introduces readers to the early
Calendars_of_Creation
ministry. Inside the back cover, the
World_Calendar_Proposal
layout is shown.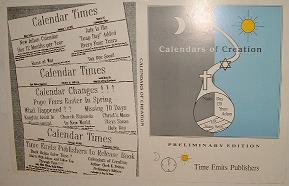 Front & Back
CoC Cover
17 x 11 inches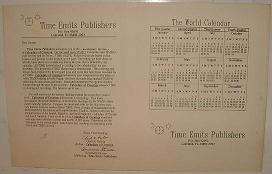 Inside Front & Back
CoC Covernside Front & Back
CoC Cover
Sample 728 x 90 px Ad Space and you may add up to 3 text links: words/keyword phrases. Ad Price: $72.00/1-year or $20.00/3-months


tags Donate, Bible, calendar, project, church, missionary, support, sponsor, advertising, affiliate, language


We are seeking ministry affiliates and translators to share in social media distribution. You earn a percentage of pdf sales and represent your native language.